Quite often, clients are excited about their photo session and want to see their images the very next day! This is totally understandable, but when you read this article you will understand why it doesn't happen like that. I pride myself on delivering quality images, and edit every single one before handing them over to the client.
Many clients assume that once the shoot is over, most of the work is done. Far from it! This is where the bulk of the work begins, and it's called post-processing. This involves sorting through the images and getting rid of the duds (this alone can take a few days), and then going through all the 'keepers' and editing them for colour, contrast tone and overall quality. I go through each image individually and make sure that they are good to print. I could spend anywhere from 30 seconds to 30 minutes on a single image. Whilst I might like to apply toning effects to some images, I also need to keep in mind how all the images will look together in an album or side-by-side on a wall. With this in mind I tend to edit similar photos in a group to complement each other, but another group of photos in a different part of a session may get different treatment. The vast majority of photos I leave with natural colours and just tweak the contrast and colours for great skin tones and a photo that 'pops'.

I have updated this post (March 2013) to reflect my more recent work and style.
What is toning?
An image might look great straight out of the camera, but some images just look better with a little extra love. Sometimes the exposure might be a little off and need correcting, sometimes the white balance isn't right. Toning is about adjusting the colours, brightness and contrast of the image, amongst other things, to suit the mood and subject. Ideally, the image should still be the most striking thing, not how it is processed. If all people notice is a special effect, then it isn't done right. Unfortunately some photographers rely on gimmicky effects rather than creating a good image in the first place. Take Photoshop away from them and the image does not stand on its own.
I rarely use Photoshop by the way, I do most of my editing in Lightroom. I make my own presets (settings that I can store and apply to multiple images) and even do quite a bit of retouching within this software. I turn to Photoshop only when I need to do a complex retouching job that Lightroom just can't handle. And of course, I shoot RAW not JPG so that I have the most image information to work with.
If I really love an image and it works really well toned a few different ways, I'll sometimes provide a few versions of the image to give the client a choice. I might also include a 'regular' version in case their tastes don't match mine. I like to think that they do because they hired me though!
Here's a few examples of how some images looked before and after processing. The first image in each set is straight out of the camera (SOOC) with Lightrooom's default settings.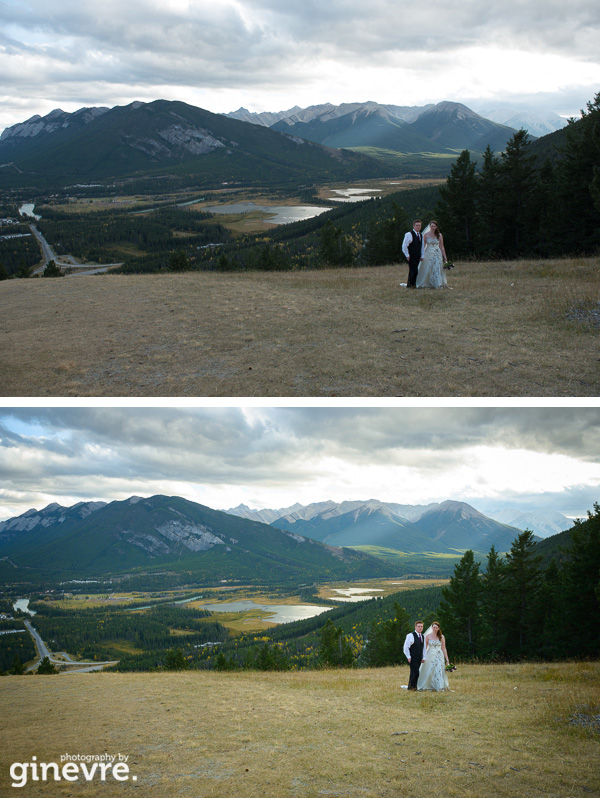 This was taken in beautiful, dramatic late afternoon light. But SOOC it looks a bit grey and drab, and that's where some post-processing magic comes in. Now it's a beautiful fall wedding photo where the bride and groom stand out. I know which image I'd prefer to hang on my wall.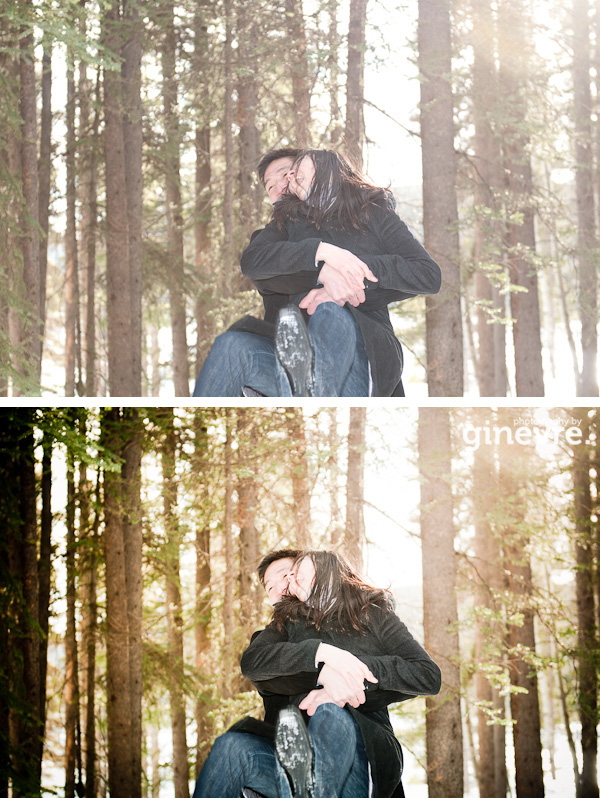 I  love this image. It is a fun action shot that was perfectly timed and focused. It just need to be warmed up and given a little 'punch' to really bring it out.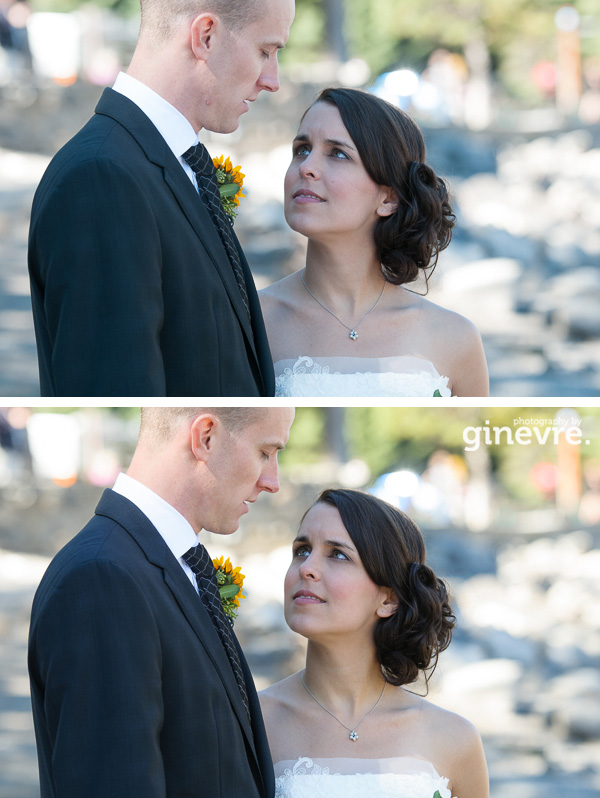 I shot this photo from a distance so it was just one of those candid moments. I really liked the way the bride was looking up at the groom. SOOC it was a little cool because they were in the shade. I adjusted the white balance to warm it up a bit, and also removed a stray hair  from the bride's face and a spot from the groom's face.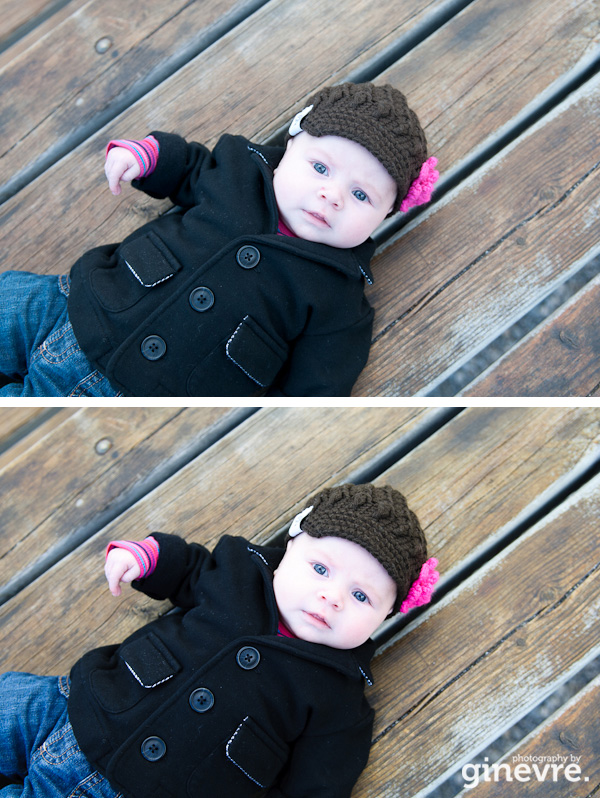 This baby photo only needed some minor adjustments, and I also healed a red patch on the side of her nose.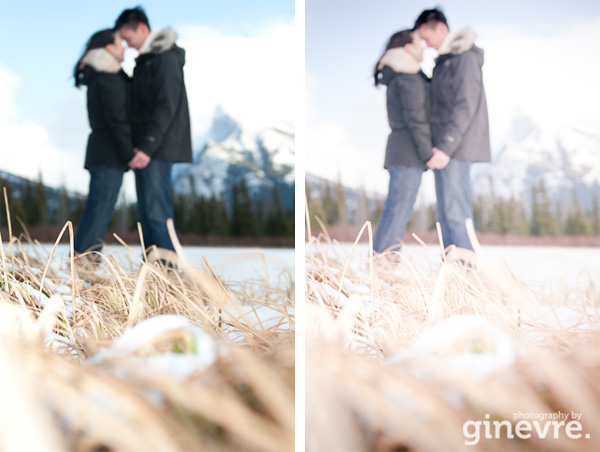 Some images just cry out for a softer mood - this means soft pastel colours and low contrast, shown on the right.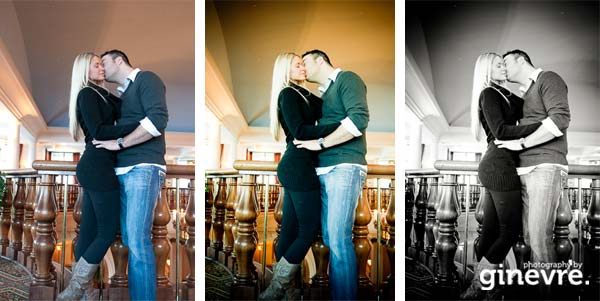 This shows the original image (left), a colour toned version in the centre, and a black and white version for good measure. If an image looks great both in colour and black and white, then I will provide both versions. Some images look their best in one or the other.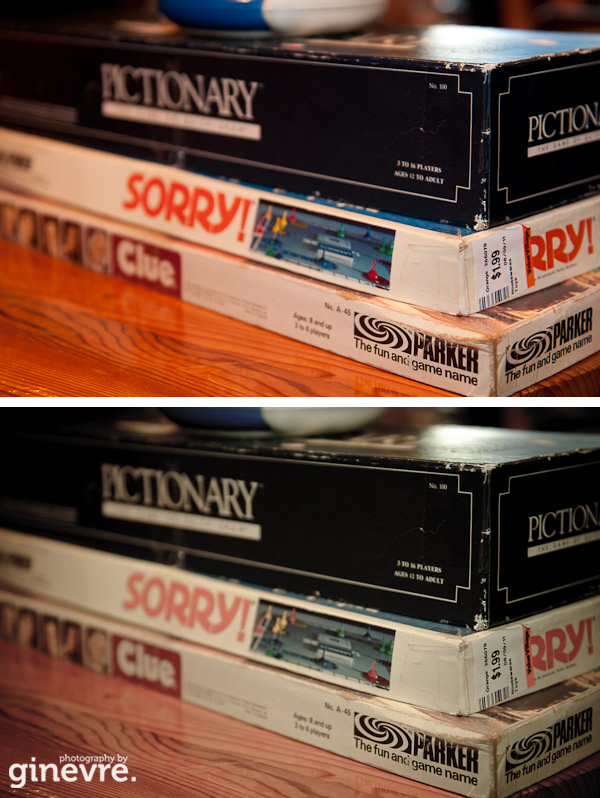 The original bright colours just didn't suit the old battered games. Subtle aged colours were the way to go.

What about retouching?
I tend to shoot in a photojournalistic style as much as I can, because I want to capture real expressions and emotions. In my view, done well, these make the best images. Sometimes though, an otherwise great image will have a stray hair across the face, or an ugly exit sign in the background, or a person that couldn't move out of the way - things that were out of my control when I shot the image because catching the moment was more important. If these things detract from an image that I like and want to give to the client, I will retouch it to remove the offending pixels. I don't make major alterations to a scene, I still wish it to represent reality as much as I can, but I want the image to look great too. I don't have the time to pick up rubbish or move things around when I'm shooting, and I can't always exclude things when I compose the shot, much as I would like to.
Of course, I also retouch blemishes on faces, and make sure that my subject's skin looks great in the photos. This is mostly only needed on close-up shots, and only in certain lighting. The right lighting from the start always gives people an excellent complexion! No-one wants to see a big red pimple in their portrait. Other features such as a mole, I might play down a little but not remove entirely (unless I am asked to) because it is part of the person. It will still be there but you won't notice it.
What do I retouch the most? HAIRS! It gets windy in the mountains, and that is something that will always be hard to avoid. Most shots are timed when the hair is blown off the face, but sometimes there are a few that go right across the face and spoil an otherwise nice photo. So I retouch them and remove those offending hairs.
Here are a few retouching examples...
So I could take this shot, a couple of ladies kindly moved aside for us. The hotel employee moved over as much as he could, and probably thought he was out of the shot. I was not about to tell him to leave his post! So I carefully edited him out.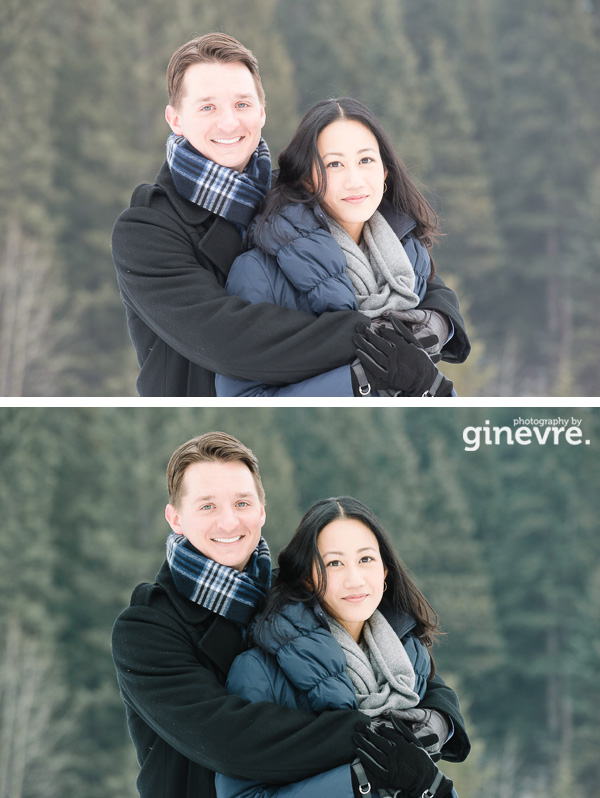 Another example of toning and retouching. I gave the image a nice tone, but main thing I did was to retouch the fine flyaway hairs. They are much more noticeable on a larger image size so they had to be cloned out.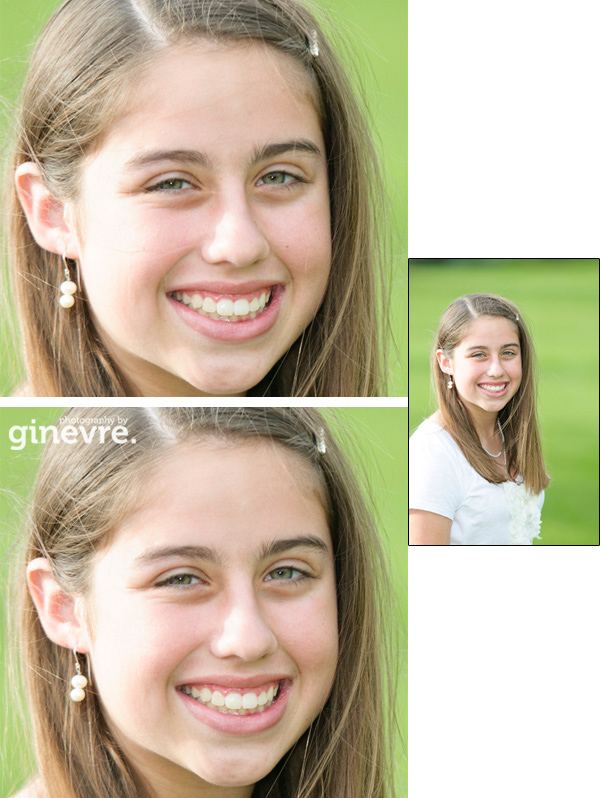 A portrait shot on a windy day. Kaitlyn had hair blowing all over her face, but as this was one of the best photos of her with a nice natural expression, I chose to retouch it and remove the most of the hairs.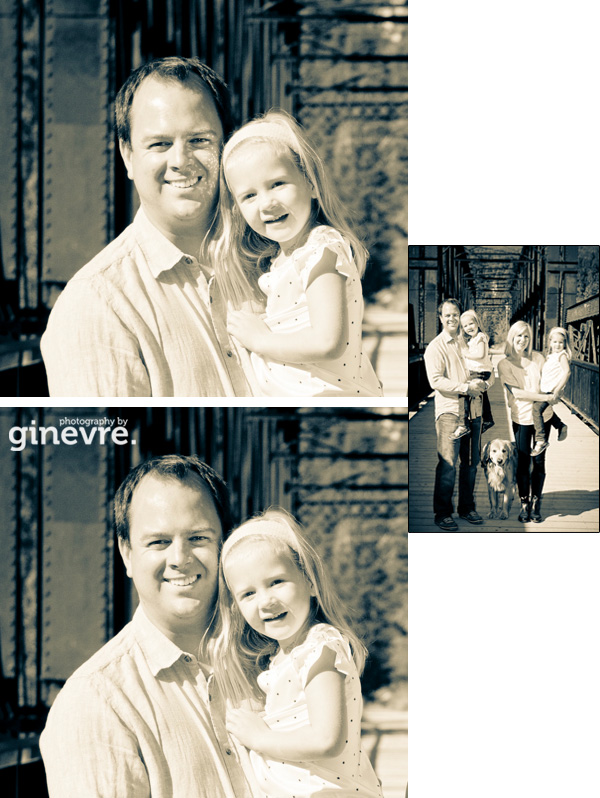 When I took this family portrait, I couldn't see that the girl's headband was sparkling all over her dad's face. And even if I did I probably couldn't have done much about it. There was no way I was going to throw away a shot where two adults, two young twins AND a dog were all looking at the camera at the same time! So, into Photoshop this one went for a tidy-up.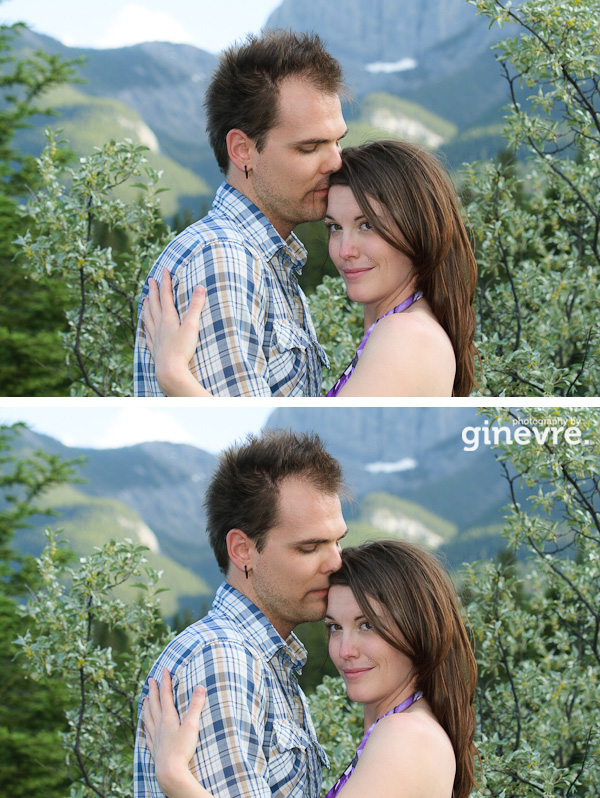 Another hair removal. This one was actually pretty tricky, as it went over Shawn's mouth and stubble. It was worth it, because even though I had so many great shots of this couple, I still loved the relaxed, romantic feel of this one.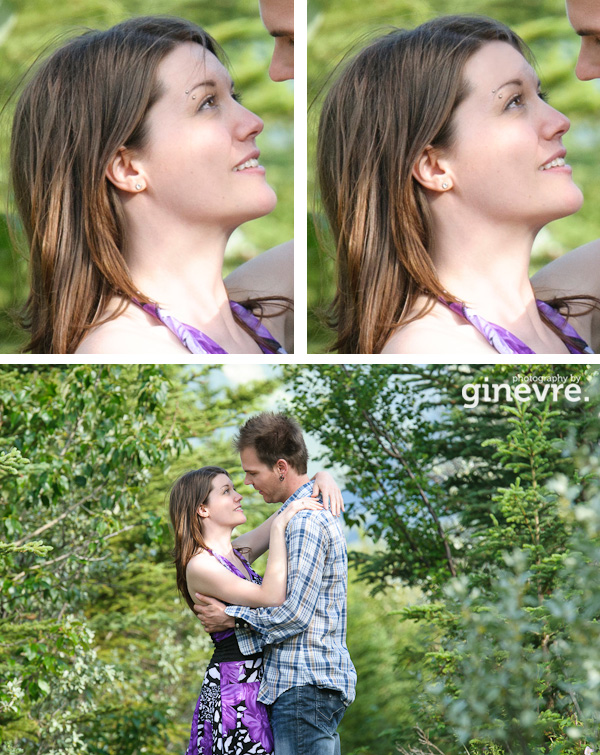 This hair removal was easier, and I felt the image looked better without the distracting hair over her forehead. When you shoot in strong winds, this is about as good as it gets sometimes!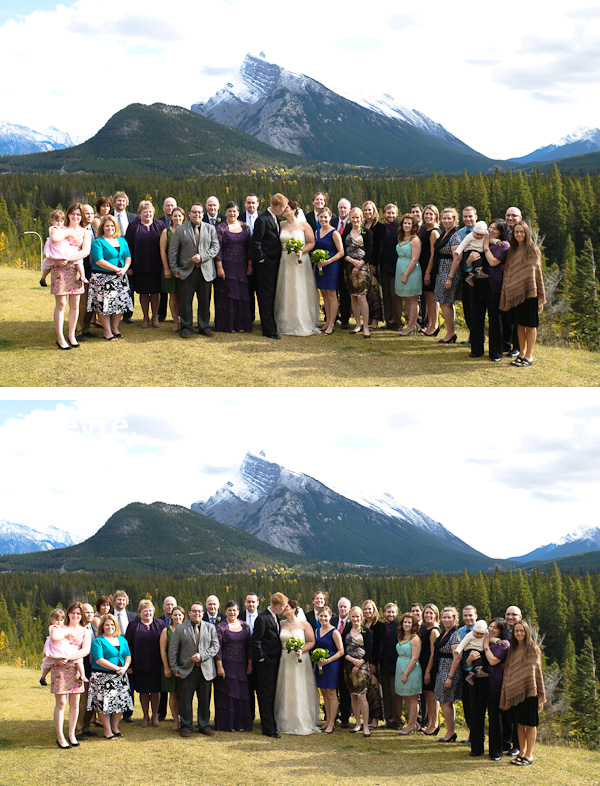 Here, I should have been paying attention and positioned the guests a little better to exclude the street light, but sometimes it really is easier to remove a post than it is to move a group of people. Luckily it's an easy fix.
I could bore you with more examples, but suffice it to say that I have cloned out everything from water bottles to exit signs! If they stick out like a sore thumb in the photo, they're gone.
I include editing and retouching in all my packages. Next time you're comparing photographers and prices, consider this aspect of the package and you will realise that there is sometimes a lot of added value in areas you might not have been considering. Some photographers provide unaltered proofs and only edit images you choose. Some will edit and tone all images, but many will not include retouching in their standard pricing. I charge extra for retouching only if the task is a specific request of the client, and something I wouldn't normally have done. If you're looking for true photojournalism with nothing altered, I am happy to do that as well. Just let me know that you don't want any retouching. In most shoots, I only need to retouch a handful of images anyway.
I hope this post gave you a deeper understanding of what goes on between the shoot and the day you receive your disc in the mail. The work is definitely not done when the shoot is over, and my goal is to make sure you love your photos.